Sep

Number 8
nº 8
IBÁN RAMÓN
ROSA MARTÍ
DEIMA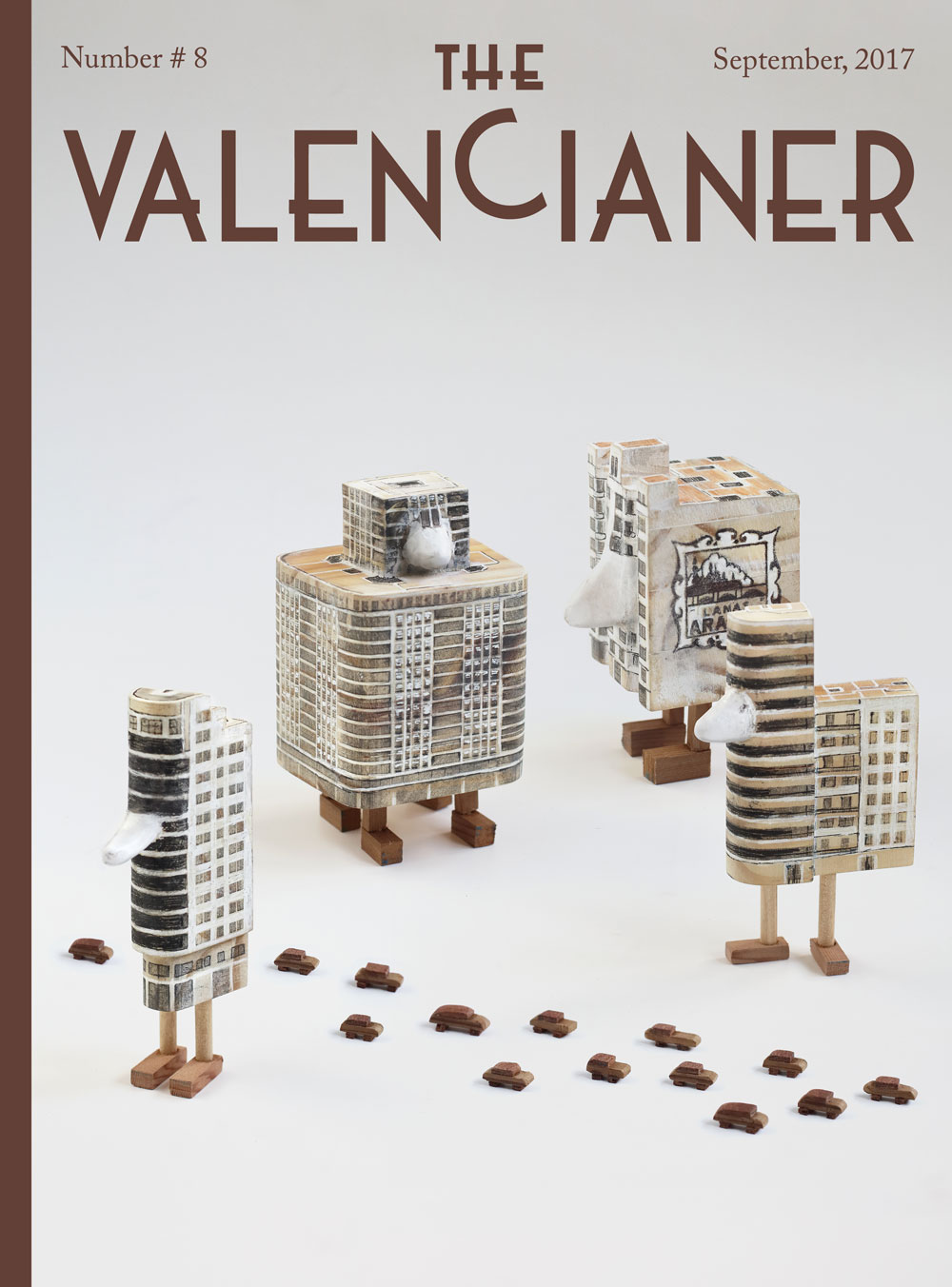 When I arrived to Valencia I was in love, deeply in love.
Some months before I had lost my job so I began to make a living as a freelance translator. Since I could work wherever there was internet connection, I took my laptop and moved to Valencia overnight, near to my great love. That's why my first memories about the quarter of Marxalenes are seasoned with sweetness and filtered by passion; adorned, beautified, mystified. And they remain like this in my memory.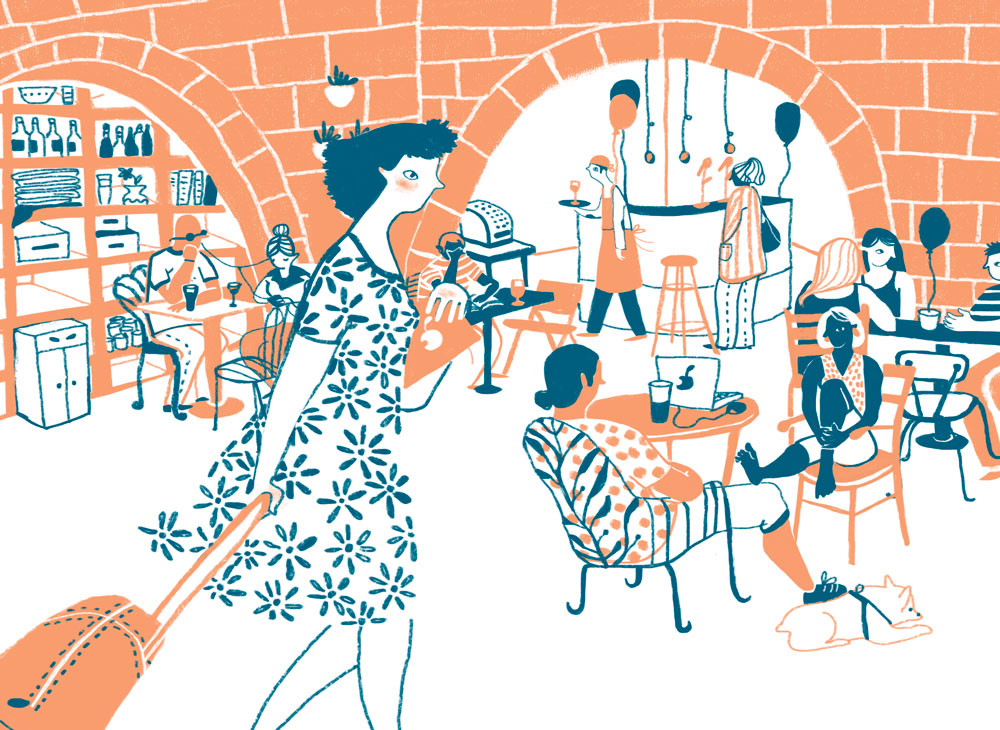 Besides, my previous neighborhood was the Barcelona's Gothic Quarter, full of expensive and trendy places or thematic taverns for tourists… so landing on Marxalenes was a breath of fresh air: the city is alive, full of real people who work, complain, cry, breathe, get angry and defend themselves when they feel attacked. In the supermarket you see women with her purses under the armpits, attended by young women with silver bleached hair, well tanned and with french manicure. In the bars, the workers bring their homemade "bocadillos" to accompany the "barrejat" (the levantine cousin of "the sun and the shadow"); in the streets, the old men invert hours looking at the construction's work and commenting about it with their mates, with the foreman or even with the salaried slave that approves without understanding the point; farther, the second-rate drug dealers chain beer cans waiting for clients. Although I'm commonly disgusted by that musty Spain that I refer, my description is made with curiosity and affection, like Nancy (from the thesis of Ramón J. Sender) would do it, and as a result of coming from Barcelona (the modern city of design) and because of my former crush.
Marxalenes is a working class neighborhood that offers the right amount of everything. It has a beautiful park that, although small, is designed wisely: an irrigation system with canals takes the water to every corner, the flora is only Mediterranean and there're paths that allow you to go long distances without having to leave the park (I can certify this, since I've trained there the half marathon; but if you're running for more than 30 minutes you'll probably need to go to the Río seco for a greater space, big enough to train for Ironman, if your body lets you).
The park has other attractives: a cute library built in the place of an antique pool. Two curiosities about this library: when I came in for the first time, there were only a few books (it seems that Barberá spent all the budget transforming buildings into libraries, forgetting or not minding how useless is a library without books). The second curiosity is the schedule: it opens till 19:45, but the park closes at 18:00 in the winter. There's no way to enter the library after 18:00. From that time on, I imagine that the librarians have a very relaxed work. What remains a mistery is how they go out: do they jump the gate or do they have a key to open the park? Maybe there's a bed installed in that beautiful garden.
There's also a train museum in the park: the "Trenet" museum. As a museum is not a big deal, but as a restaurant it's a true bargain. The menu costs around 4 euros, they offer a special diet (low in fat and salt) and it's totally adapted for people with reduced mobility, which is great for the pensioners who live nearby, and -if things get really bad in the future- good for me too: I could drag myselft into this bright train museum to eat a decent meal, probably not followed by the passionate love that brought me to Valencia but still very well accompanied by those numerous friends I have in the neighborhood.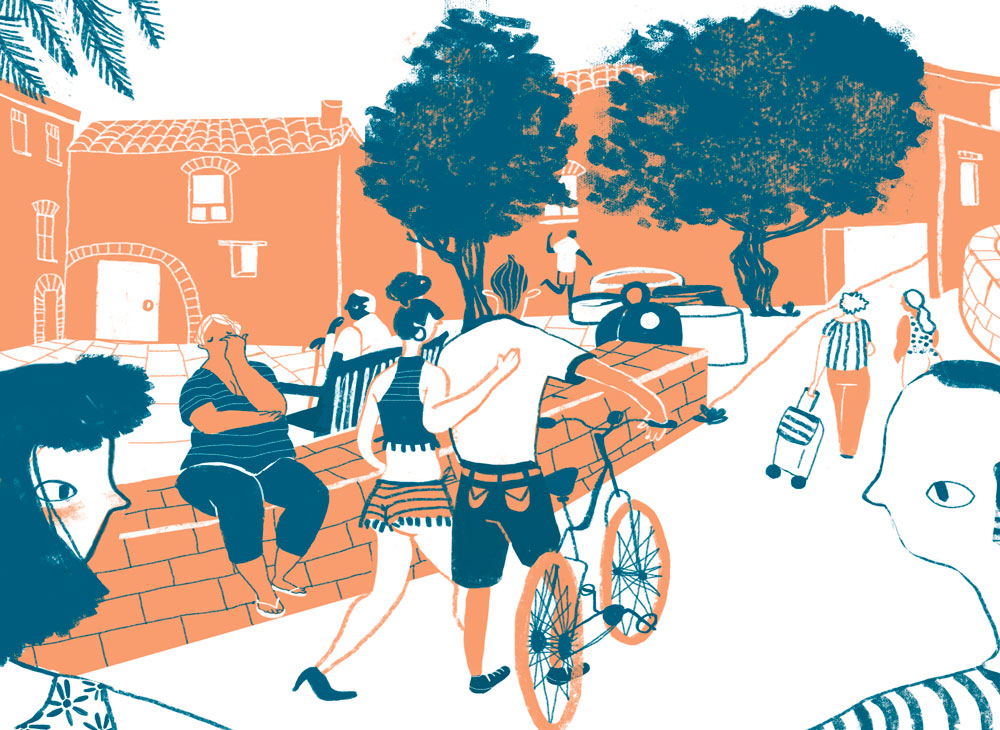 But let's not get ahead of ourselves… let's enjoy what we have, what already exists, let's enjoy good memories… In Marxalenes there's a Nature Centre that includes a pond, a centre of activities for senior adults, and a pool with a gym and all the stuff.
I remember how much I laughed at my dear love because after passing 15 years without doing any sport, he was exhausted with a 25 meters swim. After a few months he was able to swim one kilometer in twenty minutes, but in the first days he looked purple as an eggplant, breathing fast in the border of the pool… giving nicknames to the rest of the swimmers; nicknames that I didn't undestand because without my contact lenses I only saw amorphous masses…
Giving nicknames was one of our favorite hobbies: in the afternoon, after drawing and translating all day (respectively, each to their own), we went for a walk in the neighborhood, had a glass of wine, a pack of "Tosfrits" (it took us a while to quit this snack), and seated side by side we spent the time observing people and giving them nicknames… but not any random name, we had to make them rhyme: Fermín the Skin, Julieta Pesetas, the droll bald, the malefical alluvial…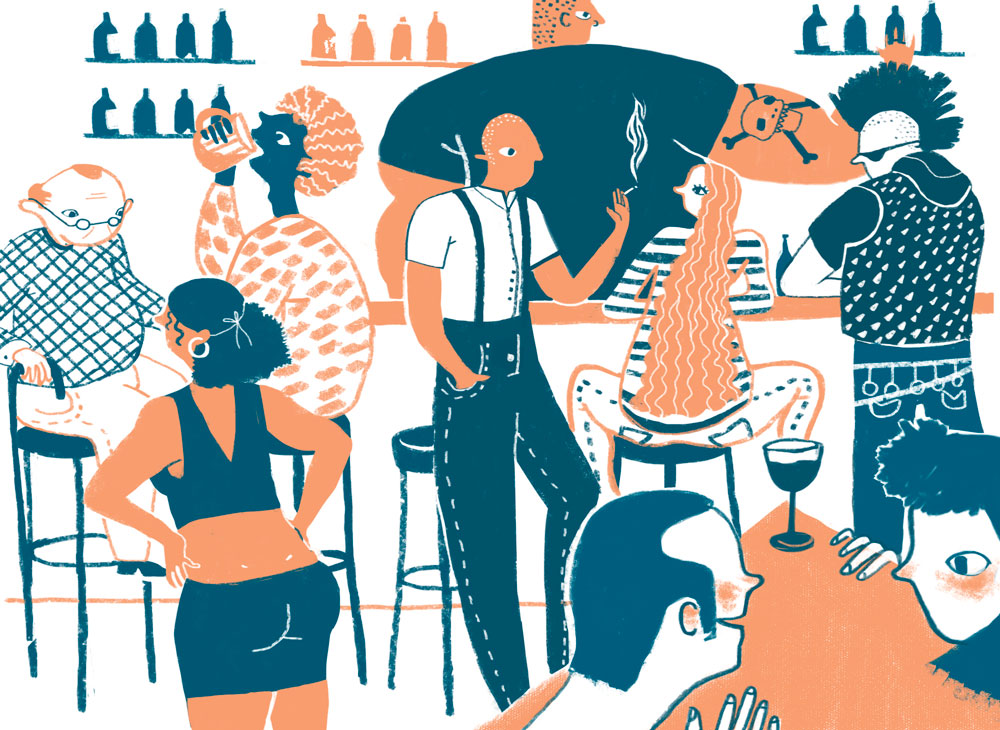 There's also place for entertainment in Marxalenes: a timeless pub called "El Califato", where you feel submerged in the nineties until you realise there's air conditioner, non smoking people and that the prices are similar to a disco in Ibiza. The pub plays a wide range from Extremoduro to Bonnie Tyler. The place is charming, earthy, without conflicts; it's like the musical pub from the small town where you used to spend your summer vacations as a teenager… with dark corners and line to the women's bathroom…
But there's more: the nightlife offer fills all kind of expectations; one time, in the middle of a shocking story of heartbreak told by our friend David, we were looking for a place to continue chatting and we stumbled accross an unexpected place… a couples exchange club. Although that is another story, which can be read in the next issue of The Valencianer.
I said that my view on the neighborhood is probably distorted by my sweet memories… but Marxalenes is alive, pretty much alive. It's a place that tastes real.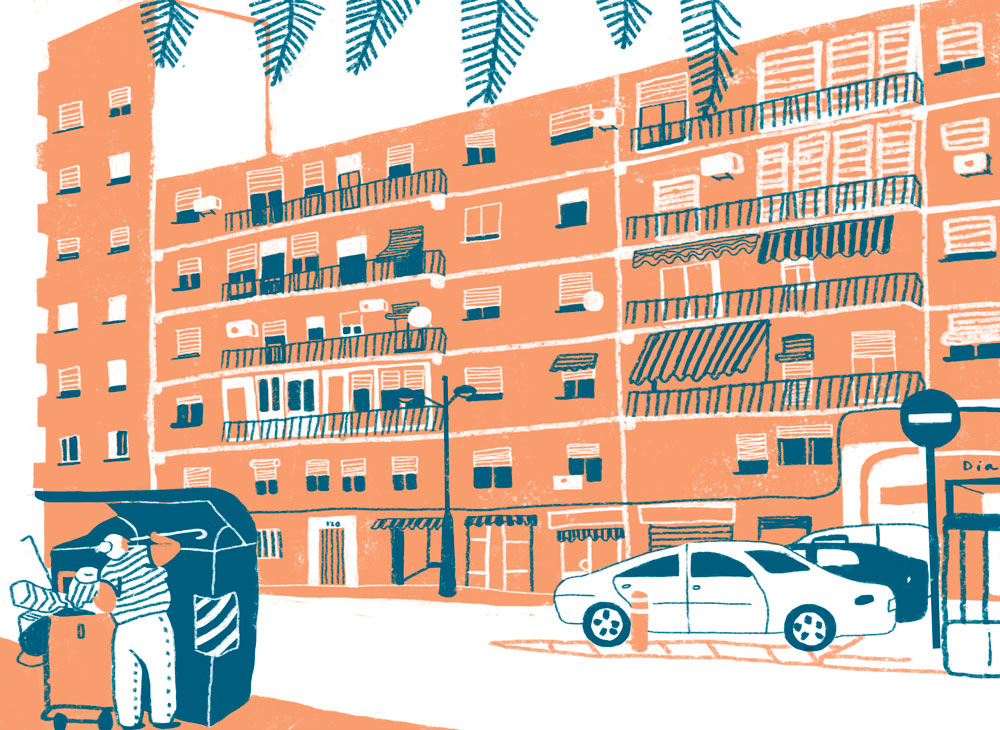 HISTORY OF A COVER
Four lords buildings meet in San Agustín Sq.
By Ibán Ramón